Pre Press & Creative Studio
• Screen Platerite 2055Vi-S
• Palladio Platesetter
• Fuji XMF Workflow
• Hardware – 5 x Intel iMac 27"
• Software – Adobe Creative Cloud Collection, Quark V9
• Konica C280 Printer x 2
• Accura Print Management System
A full and complete management information keeps all your information and orders secure making it easy to complile quotations, orders and keep track of stock levels.  The latest up to date Fuji work flow and platesetter allow for high quality plates to be output from the studio for use with the lithographic printing machinery.
Lithographic & Digital Printing
• Heidelberg B3 Speedmaster 52 5 colour
• Heidelberg B3 Speedmaster2 colour with Numbering & Perforating
• Heidelberg B3 Speedmaster 2 colour
• Komori B2 528EM 5 colour
 • Konica Minolta Bizhub Press C1100 Biz Hub Pro
• Konica Minolta Bizhub Press C6000 Biz Hub Pro
• Mimaki JV33 Large Format Printer
• Mimaki CG-160 FX Cutting Plotter
• Mimaki 3042 MKII Flatbed
We offer a full and robust set of printing equipment to match all our customers needs.  From long run lithographic machinery to short run digital runs, large format printing reel to reel and small screen prints we have you covered.
Finishing & Mailing
• 1 x Polar 78 EM Guillotines
• 2 x Polar 76 EM Guillotines
• Horizon 20 station Collating, Folding Wiring and
Trimming
• Stahl T36 Folding Machine with Cross fold
• Morgana Scoring Machine
• Various Drilling/wiring/collating
• Matrix Duplex 530 Laminator
• Bubble Free Applicator Sign Table and Roller
• Heidelberg Cylinder Die Cutter
• Muller Martini Station 6 Station Binding with cover
feed
• Shrink Wrapping Tunnel
• Warehouse & Storage with pick & pack facilities.
• Bulk Mailer UK Professional
• Pitney Bowes DI 450
• Pitney Bowes DI 950
• Pitney Bowes DI4000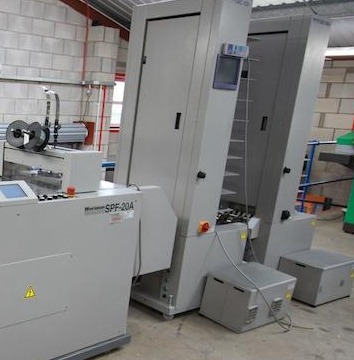 Contact us today for a quote on your print
Let Aztec Colour Print quote on all your business stationery, promotional items and large format printing including signage. We offer the Complete Print Solution to your business.